Travel
Where To Travel After The Gili Islands
The Gili Islands are one of the most popular tourist hotspots in Indonesia.
Spoilt with abundant white-sand beaches and coconut palms, the Gilis are located off Lombok's northwest coast. The earthquakes of July and August 2018 resulted in a drop in visitors, but the islands are now safer and more sustainably-minded than ever, expecting around 2 million visitors by the end of 2019.
Each island has its own individual characteristics that cater to different kinds of tourists.
Gili Trawangan is known as "the party island". This is the island for you if you're traveling solo or with a group of friends, and looking to makes new friends while you log a few dives.
Gili Meno is known as "the romantic escape". It's suited to couples seeking a stunning beach escape and some romance.
Gili Air is somewhere between the other two. This is the place to go if your priority is relaxation and more local experience.
So where can you travel after the Gilis on the map?
Back to Bali
There is no shortage of options to choose from when it comes to selecting a ferry from Gili Islands to Bali. There are 13 Ferry Routes connecting Gili to Serangan, Sanur and Padang Bai. For example, Gili Trawangan Lombok to Padang Bai Bali.
Lombok
There are several transfers that can be booked towards Lombok as well as cheap public boats that can be found in the harbour area on each island and leave when full.
Some of the highlights of Lombok include the following attractions:
Trek to Tiu Kelep Waterfall – This trip takes around 3 quarters of an hour by foot and leads you to a breathtaking waterfall in the forest.
Explore Kuta, Lombok – Most of the action in Lombok takes place on the southern part of the island. It's a fantastic place to discover new places to eat, check out the fun bars and indulge in a laid back island lifestyle.
Trek Mount Rinjani – This trek isn't for the faint of heart. It's difficult but is absolutely worth the effort for the rewarding views over Lombok. If time is on your side – keep in mind it can take 2-4 days – this adventure is for you.f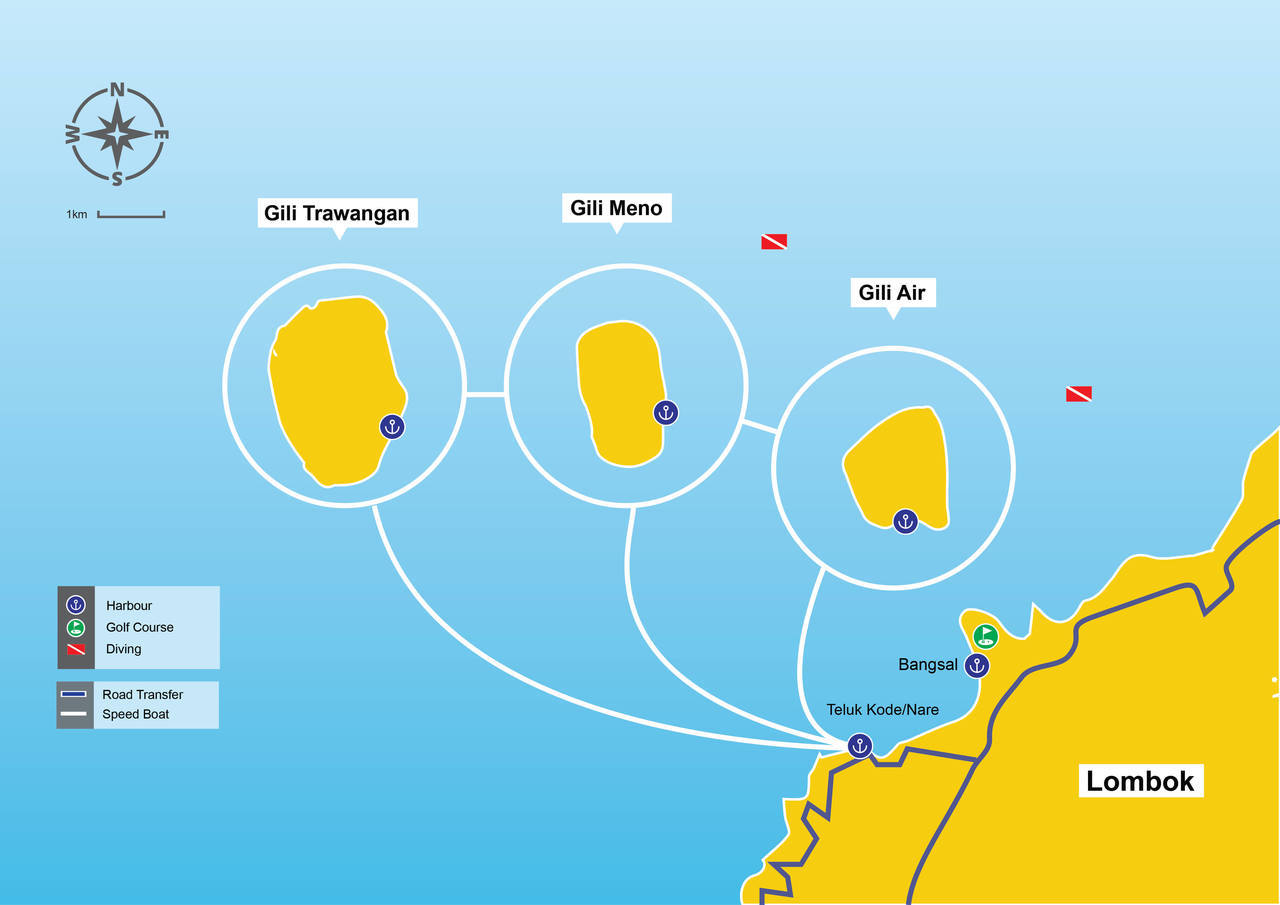 Onwards to Flores
There are flights from Denpasar or Lombok airport to Labuan Bajo. Once in Labuan Bajo, you can book a boat trip to visit the legendary Komodo National Park. The other option is to get a boat from Lombok to Flores which usually takes around 3 nights.
Komodo National Park is comprised of 3 main islands: Komodo Island, Rinca Island and Padar Island, plus a few other islets. In 1986 it was declared World Heritage Site and Man and Biosphere Reserve by Unesco, it's the only place on Earth you'll find the  the largest species of living lizard on Earth, the Komodo dragon. Almost 6,000 Komodo Dragons call this special part of Indonesia home.
However, the natural spectacle in Komodo National Park and its islands includes so much more. Be prepared for an abundance of incredible views, white sand, colorful corals and huge bats. The perfect combination for an adventure.